USP 797
WHAT IS APPROPRIATE FOR YOUR CLEANROOM?
SUSTAINABLE GOWNING PROTOCOL
REUSABLE VS. DISPOSABLE
Help drive sustainability programs by reducing consumable products (disposable coveralls, hoods, boots, masks, goggles, mops and sleeve covers) all items you throw away, and convert them to a reusable solution.
HIGH DENSITY ESD VS. TYVEK
Tensile Strength
HD ESD has a much higher tensile strength than the Tyvek. Testing shows that HD ESD is a significantly stronger fabric.
Body Box
At 0.3 microns, Tyvek released 21% more particles than HD ESD. The Body Box test is the best real world test to show filtration and particulation characteristics of a fabric. Explanation of Body Box Personnel engaged in predetermined exercise per IEST-RP-CC003. This test challenges the entire garment system for particle containment capabilities. The particles are collected at two different levels, the knee and the sub floor.
Comfort
Air porosity and Moisture Vapro Transmission tests show HD ESD to be much more comfortable than Tyvek. Employees who are more comfortable produce better work performance.
Non-Linting
HD ESD is a non-linting fabric made of continuous filament polyester. Tyvek has a propensity to lint. Gamma irradiated Tyvek also tends to out gas.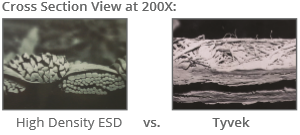 THE SUSTAINABLE CHOICE
Reduce carbon footprint
Reduce waste and environmental liability
Reduced cost
Improve morale / comfort
Enhance compliance
DISPOSABLE GARMENT AND RELATED SUPPLIES SAVING
Projected Annual Savings >30% when switching to reusable supplies.
PROCUREMENT SAVINGS
Time and overall cost reduction.
CAPITAL INVESTMENT SAVINGS
We stock it for you; unlike a disposable program, where you have to purchase and frequently manage inventories.
INVENTORY MANAGEMENT SAVINGS
Validated Garment Tracking System.
FREIGHT SAVINGS
PCS routed deliveries.
REDUCTION OF WASTE COST
Disposable garments and related supplies.
CLEANROOM GARMENT FEATURES
HOOD
Snaps to adjust sizing
GOGGLES – VALIDATED STERILE REUSABLE GOGGLE PROGRAM
PCS has developed a sustainable reusable validated (SAL 10-6) rental goggle program with zero degradation, creating exponential increase in the life of your sterile goggles! All reusable goggles are validated at SAL 10-6. "A game changer for reusable sterile goggle programs"
COVERALL
Provides maximum contamination control, comfort and mobility. PCS requires the over locking/surging of cut or raw edges. This helps to minimize the potential of a cut panel fraying and protruding through the seam. Since cleanroom polyester fabric is made from long continuous filament yarn, there can be an "angel hair" type fraying that is a result of fiber separation at the edge of a cut panel. If over locked/surged, the cut panel is encapsulated by the thread. The typical size (IN-STOCK garment sizing) for the PCS coverall is generous. It is at the high or generous end of the industry standards for coverall sizing. This should insure a more comfortable fit for the end wearer. These same statements can be made for all of our garments.
BOOTS
Available in many sizes with flat, molded soles or soft hypolon soles.
PCS has been a long time innovator in boot design. While most of our competition uses a single ankle strap design, we provide a better fitting boot by adding extra webbing. The extra webbing (refer to styles TW, D3) makes the outer boot more comfortable to wear since it holds to the shoe more efficiently. In addition, we invest in the longevity of the boot by using a corona fender material on most hard sole designs. Many of our competitors choose to not add a corona fender which will lead to a shorter boot life span and a faster replacement charge.
BARCODES
Garment Tracking System
SUBLIMATED LABELS
Provides easy view sizing
sublimated-label
IS YOUR PROCESS FDA COMPLIANT?
A study of sterile vs. sanitized goggles guidance
The proper operation of an aseptic cleanroom has always required the greatest attention to every detail. The highest standard of operation and control must be maintained. One of these controls has long been the use of a sterile cleanroom garment gowning system.
The standard aseptic gowning configuration calls for the use of goggles to contain contamination from the operator's eyes and face. Historically, goggles have been sanitized at the point of use which may not meet the traditional definition of sterile.
The current "Guidance for Industry Sterile Drug Products produced by Aseptic Processing-Current Good Manufacturing Practice" has attempted to extend this control. This issue for industry comment is being followed by many companies who wish to achieve compliance prior to the document becoming a regulation. The Agency recommends "gowns that are sterilized and non shedding, and cover the skin and hair (face-masks, hoods, beard/ mustache covers, protective goggles, and elastic gloves are examples of common elements of gowns)." This document if left unchanged will require all garment elements including eye wear to be sterile if used in the aseptic cleanroom. The historical methods for sanitizing goggles, solvent wipe, UV cabinets etc. are not likely to be able to meet these enhanced requirements
In order to help address this concern, Prudential Cleanroom Services provides a validated reusable sterilized goggle. PCS sterile goggles will ensure that every operator will comply with the most recent industry guidelines.
Prudential Cleanroom Services' sterile goggles are tested to insure that their composition and properties remain intact after repeated sterilization.
A Prudential Cleanroom Services Validated Sterile Goggle Program delivers sterile goggles in accordance with the guideline!
*U.S. Department of Health and Human Services Food and Drug Administration Center for Drug Evaluation and Research (CDER) Center for Biologics Evaluation and Research (CBER) Office of Regulatory affairs (ORA)September 2004 Pharmaceutical CGMPs.
The FDA does not specifically endorse Prudential's goggle program.
STERILE & PARTICULATE CERTIFICATIONS
For customers manufacturing aseptically, PCS provides labeling with lot traceability, the expiration date and the dosimeter dot that indicates exposure to irradiation.
USP 797 Recommended Gowning and Ancillary Items

HOOD
HE-11-79-LZ
Hood eyes only
Built in light weight tricot FM
Flared skirt
Hidden elastic back
Horizontal adjustment 1 female snap, 3 male snaps
Color: White
Size: Unisize
COVERALL
CR-11-79-A8
Mandarin Collar
Raglan sleeves
Tunneled elastic wrist with thumb loops
Zipper front
Three snap knee high boot attachment
Tunneled elastic leg opening
Color: White
Size: S – 4XL
BOOTS
BK-11-79-PR
Large top opening
Hypalon tan soft sole
Ankle strap with side release buckle
Extended toe straps with snaps
Elastic and snap adjustable tab top
Corona fender
Color: White
Size: S – 2XL
HOOD
HF-11-79-LZ
Open face
Two snaps on each side of face
Over the shoulder bib
Horizontal and vertical snap adjustable back
Elastic encased back
Side snaps for face mask installations
Color: White
Size: Unisize
FROCK
FR-11-79-JX
Mandarin collar
Raglan sleeves
Extended sleeve length
Tunnelled elastic wrist with thumb loops
Zipper front
Color: White
Size: S – 4XL
INNER WEAR SHIRT – LONG SLEEVE
US-20-44-EXA
ESD Micro Denier
Three snap front
Henley collar
Long sleeves
Color matched knit cuffs
Color: Navy Blue
Size: S-4XL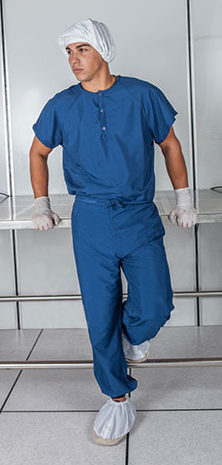 INNER WEAR SHIRT – SHORT SLEEVE
US-20-44-EXA-SS
ESD Micro Denier
Three snap front
Henley collar
Short sleeves
Color matched knit cuffs
Color: Navy Blue
Size: S-4XL
PANT
UP-20-44-MK
ESD Micro Denier
Elastic back
Drawcord front
Color matched knit cuffs
Color: Navy Blue
Size: S-4XL
SLEEVE COVER
SL-11-79-TG
Tunnelled 3/8″ elastic closure at top and wrist end
Thumb loop at wrist
Color: White
Size: 19″
PURMOP®️ CLEANROOM REUSABLE MOP PROGRAM – GAMMA IRRADIATED
No products were found matching your selection.