Company history
Since 1932, Prudential Overall Supply continues to provide best-in-class solutions for businesses for uniforms and textile rental programs. Service programs include uniform rental, uniform lease, uniform purchase, and cleanroom services for industrial uniform programs and related services. Prudential is grateful for the exceptional work produced by our industry-best tenured employees, and to our exceptional customer patronage. It is this connection that enables Prudential to provide our customers with the best possible products and service at a fair price, today and into the future.
1932
April 11, 1932 - Prudential Founded
1932
1932 - Great Depression
1939
1939 - Clark Parents Invest in Prudential
1941
December 7, 1941 - Pearl Harbor Bombed
1943
1943 - Garment Rental Begins
1945
1945 - End of World War II
1952
1952 - Prudential Grows to $1.2M Revenue
1957
1957 - 25th Silver Anniversary
1960
1960 - Cleanroom Services Offered
1968
1968 - Dan Clark Joins Prudential
1968
1968 - Poly/Cotton Fabric Introduced
1969
1969 - Man Lands on the Moon
1975
1975 - End of Vietnam War
1976
1976 - Bicentennial
1978
1978 - Prudential Achieves First Out of California Expansion Into Arizona
1980
1980 - Ronald Reagan Elected President
1982
1982 - Prudential Grows to $35M Revenue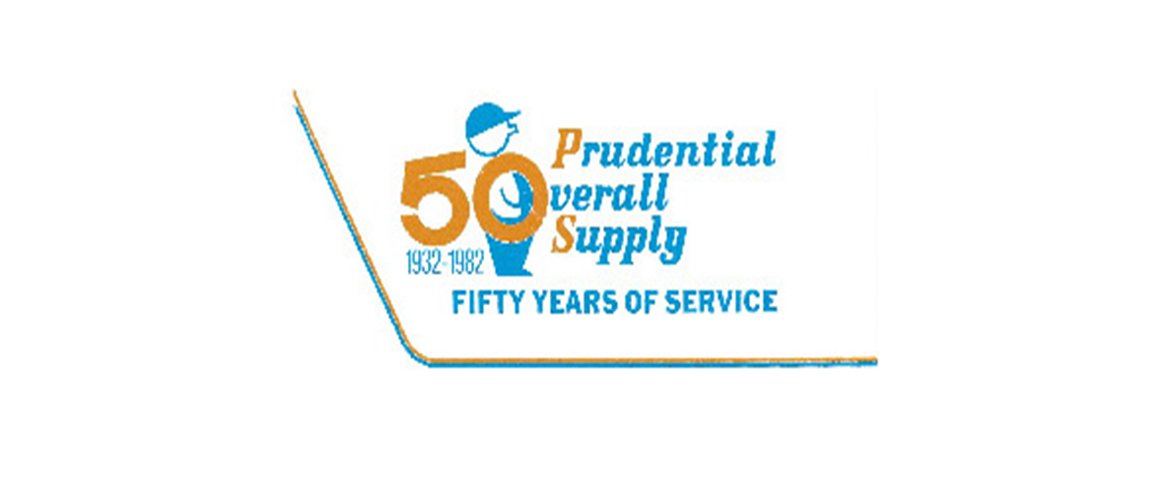 1982
1982 - 50th Gold Anniversary
1984
1984 - Los Angeles Summer Olympics
1989
1989 - Berlin Wall Comes Down
1992
1992 - Internet Launches
1996
1996 - Prudential Grows to $100M Revenue
1998
1998 - Prudential Cleanroom Services Goes Nationwide
2000
2000 - Prudential Receives ISO Certification
2000
2000 - Y2K
2006
2006 - Prudential Grows to $127M Revenue
2007
2007 - 75th Diamond Anniversary
2009
2009 - POS Launches Clean Green Movement
2010
2010 - PCS Expands
National Reach to the Northeast with a location in Manchester, NH and into the Rocky Mountain region with a location in Denver, CO.
2011
2011 – POS Launches Social Media Sites
2012
2012 - POS Largest industrial laundry chain to earn TRSA Clean Green Company-wide Certification
2013
2013 - POS Updates Iconic Logo with a Smile
2014
2014 - ASN Celebrates 10th Anniversary
2015
2015 - POS Expands
Adds new Industrial services into Southeast market with locations in Atlanta, GA; Raleigh, NC; Greenville, SC; Colonial Heights, VA; and Beckley, WV.
2016
2016 – PCS opens a Service Center in St. Louis, MO to better serve Midwest customers.
2017
2017 – PCS constructs new Cleanroom Laundry Processing Facility in Nashua, NH to meet growth demands in the Northeast.
2017
2017 - Prudential Overall Supply celebrated its 85th anniversary on April 11, 2017.
2018
Selling Powers "50 Best Companies to Sell For" list in 2018
Prudential Overall Supply recognized as the number 12 best company to sell for on Selling Powers "50 Best Companies to Sell For" list in 2018
2018
2018 – Dan Clark celebrates 50th employment anniversary.
2018
2018 – Prudential Overall Supply grows to $200M in revenue.
2019
Selling Powers "50 Best Companies to Sell For" list in 2019
Prudential Overall Supply recognized as the number 7 best company to sell for on Selling Powers "50 Best Companies to Sell For" list in 2019 for the second year in a row.
2020
2020 - John Clark, third generation Clark, assumes CEO position.
PRUDENTIAL OVERALL SUPPLY HISTORY
Prudential was founded on April 11, 1932, when John D. Clark traded in his Model A Ford Sports Roadster for a used truck in order to start his own uniform laundry service company for workers who were unable to properly care for their uniforms. He called his business "Prudential Laundry," thinking that the name suggested strength and character. The business was located in Los Angeles, where Clark had moved from his native Iowa.
Executives in the young and growing U.S. automotive industry and other businesses were beginning to be interested in how uniforms could distinguish a business by enhancing the appearance, and in some cases the safety, of employees.
Within seven years, Clark had moved his company from a small shed to a 22,000-square-foot facility. His parents, Garnette and John Orr Clark, left Iowa to join their son's business in California. John's siblings also joined the business. Bernice Clark Shoberg retired from the company as special projects manager in 1991. Frank Clark retired in 1987 as general manager of Prudential's Chula Vista plant. He passed away in 2006.
Another Clark brother, Don, joined Prudential in 1960 after coaching at the University of Southern California. Don Clark served as president of Prudential from 1972-1984, when he became chairman. He was still serving as chairman when he passed away in 1989.
Founder John D. Clark was still serving as chairman emeritus and coming into the office nearly every day when he passed away in 1991 at age 82. Today, Prudential carries on its founder's belief in the importance of leading by example, keeping commitments, caring for and nurturing the family, and continual effort to improve.
During the 1940s, Prudential began renting uniforms as well as laundering them. Prudential was among the first members of its industry to join this emerging trend that later became a standard practice. The initial investment in a substantial uniform inventory took time to pay off, but eventually led to great success for Prudential. The company purchased increasingly specialized merchandise for rental and today, the rental business generates 95 percent of Prudential revenues.
Historically significant accomplishments of Prudential include cleaning of gas masks for military personnel during World War II. The company received attention for its work during the war and its credit rating improved as a result, helping make possible business expansion with new equipment and materials.
A generation later, Prudential developed the first dust-free, contaminant-free garments, supporting NASA's efforts that culminated in astronaut John Glenn's 1962 mission to orbit the earth.
State-of-the-Art Industrial Laundering and Cleanroom Garment Processing
From a single shirt-press and three pant presses in use during the 1940s, Prudential has advanced to 1,200-pound washer extractors, each equal to 120 home washing machines. Increasingly high-tech equipment, all required to comply with strict state and federal environmental regulations, includes industrial-sized dryers, shirt presses, pant presses, mat washers and dryers, mop cleaning systems, boilers, generators, garment distribution conveyor lines, and the very specialized, complex systems in Prudential's hi-tech cleanroom garment processing facilities.
In 1963, Prudential initiated its industrial cleanroom garment service, then called a "white room." Since then, Prudential has developed an international reputation for expertise in sterile garment and protective wear processing for "cleanroom" use by companies that manufacture products and operate in controlled environments. Cleanroom laundering services decontaminate workwear used in industries such as bioscience, medical devices, optics, pharmaceuticals, paint-spray, semi-conductor and others.
In 2003 the American Medical Review television series profiled Prudential in a story about cleanroom laundry and related processes.
In 1978, Prudential opened its first facility outside California, in Arizona, beginning the national and international phase of the company's history. By 1989, Prudential was operating successfully in both California and Arizona. Since then, domestic operations have expanded to include locations in Colorado, Nevada, New Mexico, Texas, Massachusetts and Virginia. Prudential also has a facility in Malaysia and provides services in Tijuana, Mexico and in Puerto Rico. Prudential's expertise in cleanroom services has been part of the driving force for the expansion and subsequent more than doubling of revenues, while keeping costs in line.
The Prudential roster of over 25,000 customers includes more than 300 that have utilized the company's services for more than 35 years, and more than 1,250 customers that first signed on for service more than 25 years ago. Prudential currently serves 110 Fortune 500 companies.
By 2012, Prudential had grown to 27 locations. Prudential has 1,500 employees, many of whom have been with the company for more than 20 years. In some cases, two or three generations of families have spent their careers at POS.
Prudential's Total Quality Service philosophy drives how the company is managed and how employees are trained. The "Route to Success" training program greatly reduces any service interruptions and instills the motto, "Do it right the first time."