Prudential's IT Capabilities
PRUDENTIAL'S MOBILE APP
Get our new Mobile APP for FREE! Within minutes we can provide faster service to you. Our Mobile APP lets you order, cancel or repair uniforms quickly and easily. In addition, the Prudential app facilitates new product adds, sales catalog access and a tool for comments, feedback and requests 24/7.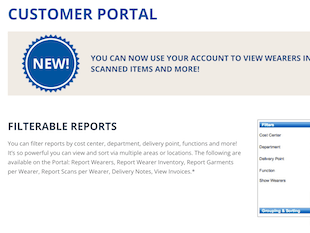 Prudential Online Store
https://www.shopprudentialuniforms.com/ Prudential Overall Supply's online store offers a full range of uniform and promotional options for customers requiring direct sale merchandise. The online store offers thousands of apparel items from the world's leading brands; VF, Wrangler, Dickies, RedKap, Nike Golf, Ogio, Edwards, Medline, Superior Uniform, Chef Design, Blue Generation, Port Authority, District, Corner Stone, Precious Cargo, First Ascent, New Era, Russell, Hanes, Jerzees, Gildan, Port and Company, Sport-Tek, District Made, Eddie Bauer, Red House, Fruit of the Loom and others.
Online Invoicing
Prudential Overall Supply offers its customers secure online viewing and printing of both delivery invoices and monthly statements.
ABS Route Assist Device
Prudential Overall Supply's CSRs (Customer Sales Representatives) utilize hand held devices. The device captures service requests and downloads requests into Prudential's account management system. CSRs can quickly, accurately and securely act on your service requirements. Actionable items include adding and canceling employee uniform wearers, size changes, upgrades, repairs, adding name badges or company emblems, ordering new items, canceling items, adjusting inventories, adjusting billing information, request samples, view invoice detail, settle invoices and digitally capture signatures.
Spindle
Prudential Overall Supply utilizes Spindle operations management software. The software increases productivity and reduces resource consumption in areas impacting energy and water. The Spindle intuitive visual workplace and proactive software contribute Prudential's Clean Green Sustainability initiative.
Oracle
Prudential Overall Supply utilizes Oracle software for its financial system. Prudential's substantial investment in Oracle's best in class solution helps Prudential better meet the demands of our customers evolving requirements.
Infor CRM
Prudential Overall Supply's customer relationships are essential to its success. Infor Customer Relationship Management (CRM) software provides a view of every customer touch point across an organization's sales, marketing, customer service, and support teams. Rich customer profiles and sales productivity tools can help users to identify opportunities to maximize the impact of each interaction and streamline sales activities. Drive accurate forecasting, informed decision making, and effective team and territory management with a robust selection of analytics, sales management tools, and proactive alerts.
Customer Exceptions Reports
Prudential Overall Supply's goal to meet all of its customer commitments extends to its exclusive account management reporting tool that alerts Prudential personnel to any customer account exceptions. The Exceptions Report will occur for any items that are not listed on the customer's specific account template. The template lists merchandise, pricing, and any other corresponding agreed items. Each week the system will automatically scan for exceptions, and an exception notification will alert Prudential Customer service management to any unauthorized customer invoice adjustments. Therefore, customers will only be invoiced for Agreement items.