You can now use your account to view wearers inventory, view all wearers, view scanned items and more!
FILTERABLE REPORTS
You can filter reports by cost center, department, delivery point, functions and more! It's so powerful you can view and sort via multiple areas or locations. The following are available on the Portal: Report Wearers, Report Wearer Inventory, Report Garments per Wearer, Report Scans per Wearer, Delivery Notes, View Invoices.*
VIEW INVENTORY BY WEARER
You can drill down to the individual wearer level. You can view detailed criteria, including wearer number, item detail (light blue shop coat), department number, delivery point number, and more.*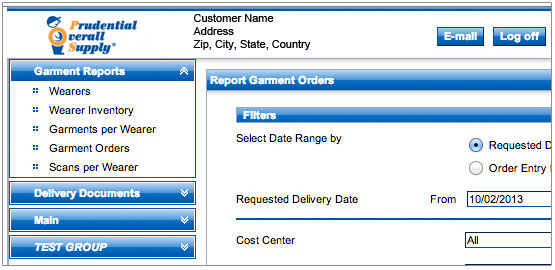 VIEW INVENTORY AT A GLANCE
Easily review max inventory, changes per week, circulating inventory, start date, and other details.*
* Customer Portal requires account set-up and approval. Please contact your serving location for details.
Quick Links:
Click here to go to the customer portal.
Click here to view the customer portal user's manual.
Click here if you are looking for your Invoices or Statements.