AB4800 ESD
Product description
Product Details
| | |
| --- | --- |
| APPLICATION | GRADE |
| Medical Device | Commendable |
| Semiconductor | Satisfactory |
| Electronics | Exceptional |
| Disk Drives | Exceptional |
| Aerospace | Satisfactory |
| Automotive | Commendable |
| Laser | Exceptional |
Ratings Key: Exceptional, Commendable, Satisfactory, Fair, Unsatisfactory 
---
PERFORMANCE CHARACTERISTICS
Excellent Durability / Economical / Electrostatic Discharge / Dissipative & Comfortable to Wear
AB4800 fabric offers the greatest value and dependability and is designed for use in cleanroom applications where ESD characteristics are paramount. Fabric is light weight, proven to be durable and comfortable to wear.
AB4800 is woven with 98% polyester / 2% carbon fibers. The ESD fiber is carbon and woven in a grid pattern.
NOTE: Those who have critical ESD concerns, please contact your PCS Account Executive for a more precise ESD gowning solution.
Results based on test conditions, actual results may vary based on soil load and use.
---
HOODS
HF-48-79-CL
Open face
Two snaps on side of face
Elastic back
Snap adjustments
White
Unisize – Fits sizes S – XL
HF-48-79-CLX
Open face
Two snaps on side of face
Elastic back
Snap adjustments
White
Unisize – Fits sizes 2XL – 4XL
---
COVERALL
CR-48-79
Mandarin collar
Raglan sleeve
Zipper front
Knit cuff
Snap leg closure
Three snap knee high boot attachment
White
XS – 6XL
---
FROCKS
FR-48-79-KF
Snap front
Mandarin collar
Raglan sleeve
Knit cuff
White
XS – 4XL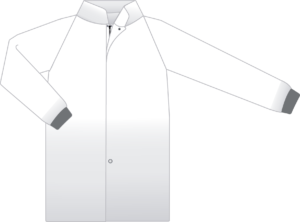 FZ-48-79-KF
Zipper front
Mandarin collar
Raglan sleeve
Knit cuff
White
XS – 4XL
---
BOOTS
BK-48-79-D3-CX
WKEP Hard sole
Ankle strap
Side release buckle
Extended toe straps
Elastic and snap adjustable top
White
Small-2XL
BK-48-79-PR
Hypalon tan soft sole
Ankle strap
Side release buckle
Extended toe straps
Elastic and snap adjustable top
White
XS – 5XL
---
SHOE COVER
SC-48-79-SW
Tan hypalon soft sole
Sidewall same hypalon fabric as sole
Back snap adjustable
White
XS – 2XL